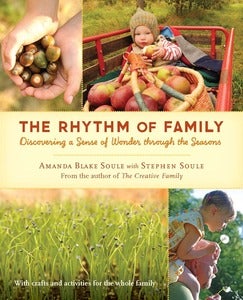 On Monday night I was in bed, feeling a bit bleak and far from sleep, when I remembered that I hadn't checked the mail yet. Donning a robe and slippers, I ran out to the mailbox and found a most pleasant surprise: Soulemama's new book (The Rhythm of Family), which I of course stayed up half the night to read cover to cover.
The kids have been poring over all the photographs, picking the recipes and projects they'd like to try, and though I am certain we will work our way through everything in the book (as we did with the first two), I also have my list of things to do right away.
The essays are beautiful, two by Steve even made me cry. It is a book of hope, of happiness, of connection – everything that I want for my family. It has inspired me in a thousand ways already, reminding me, just as Soulemama's blog does daily, to slow down and savor the little moments. I am reminded, once again, of all the joy that is to be found when we live purposefully and make connecting the reason for our days.
I am going to use the book like a family manifesto for our year – a family guide for our seasons together. The book is organized by months, so we are jumping into the summer months right away as this season slips through our fingers in these next weeks. But we've already been collecting signs of the season, and with a fridge full of blueberries and raspberries, Amanda's berry muffin recipe was at the top of our to do list!
These muffins don't disappoint! In fact, I am going to boldly declare this the very best berry muffin recipe I have ever come across. And I'm not just saying that because I have a serious love crush on the Soule family either – these muffins are absolutely delectable. Everyone here will vouch for me.
I look forward to sharing more of the rhythm of our "Year of Soulemama" here as we go. I highly recommend you pick up a copy of your own!