I know some people have a difficult time exposing their mistakes or owning up to them. My two divorces are the kind of mistakes, however, that inevitably invite public scrutiny. As much as I wish I could duck and cover when the topic is introduced. it's just something that I have to learn to deal with.
The most difficult people to talk about my divorces with are my own children. At 8, 6, 5, and not quite 1, I am their role model and spokesperson for the world. It's a weighty job even in the best of circumstances, but two divorces on my record is a pretty unsightly black mark.
For my girls right now, the best thing I can do is to be honest, especially about my most recent marriage and divorce. I made a mistake. A really big mistake, granted, but mistakes happen. What I am trying to show them now is that mistakes aren't the end and quite often just mark a new beginning. As hard as this past year has been, I hope that I have been able to show my girls what you do when everything falls apart. I hope that at the very least I have given them an example of how to pick the pieces back up after a big mistake and keep moving forward.
Divorce is one of the greatest tragedies of childhood and I won't even try to minimize its impact. But, I do hope and pray with all my heart that even mistakes as big as this can eventually be a source of strength and a wellspring of wisdom. Mistakes can make us stronger and sometimes, when we keep forging ahead, maybe even a little wiser too.
At 8 and a half years old, Esme is beginning a transformation of her own. Suddenly, and I do mean suddenly, she is so much less of a child and more a young woman. It's incredible watching her begin to unfold and discover new layers of herself, if not a bit unnerving too.
Just the other day, on the way home from school, Esme announced that she doesn't really like math anymore. I was astounded. I have read that this shift can begin as early as 8 years old, but I hadn't expected it to happen to Esme -not yet! She has always loved math and done so well with it. She is just now graduating from the more basic math concepts and moving ahead into long division and more complicated arithmetic and fractions. I have been so excited for her, so this announcement was cause for some concern.
I know that not everyone needs to love math and I'm open to that. But I also don't want doors to begin closing for my girls before they are even old enough to really begin making choices about their futures and careers. I want math and science and engineering to remain open possibilities.
Fewer women run big companies than men named John, and I think that is a topic worth bringing up at the dinner table. Only 14% of engineers worldwide are women. Women don't have as strong of a presence in fields like engineering, science, math, and technology and I think these are topics worth discussing, things that we should be aware of even at the age of 8.
I love GoldieBlox because they open the discussion and, better yet, are the beginning of a solution. Just a week after Esme decided she wasn't a big fan of math anymore, the GoldieBlox Builder's Survival Kit showed up on our doorstep. As soon as the box was opened and Esme absorbed herself in Goldie's Diary of Inventions, I felt encouraged once again.
Both Esme and Eila have spent hours building and re-building. It's mechanical engineering and it's also just fun. GoldieBlox are kind of like legos, which we adore, but different. To build and invent with GoldieBlox requires a little more thought, more trial and error, more effort. They are fun, even as the kids are making mistakes and taking apart the Tea-Cup Ride they are building for the third time to replace a piece in the wrong position. They are learning what most engineers already know - that failure leads to innovation.
GoldieBlox are opening up the conversation at our house about working at things that don't necessarily come to us easily. We are talking about making mistakes and bouncing back and about keeping doors open while we learn to love the process. They are teaching us how to fail so we can learn how to succeed. They are useful tool as I do my best to teach my girls about failure in a positive way.
These are toys I can really get behind. We love them! The girls spent hours last weekend trying out Goldie's Zip Line in various locations around the house and yard, trying to figure out the best way to really get her to zoom. I just watched, grateful and totally proud! The world is still full of possibilities for these girls, and though we're all making mistakes together, we're bouncing back just fine!
Want to try them out? Use this code to get 20% off of any purchases from GoldieBlox before APRIL 5:  Spring2015-2t97sb5a
Giveaway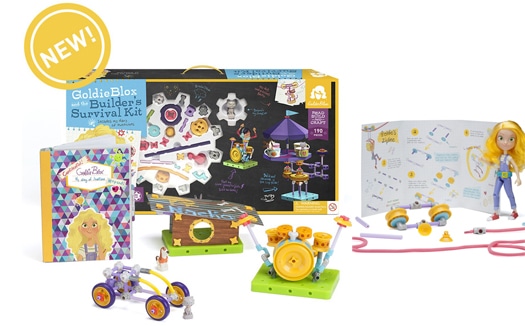 Enter to win a Goldie Action Figure and the Builder's Survival Kit. To enter, just leave a comment on this post. Tell me about a time you failed and bounced back.
For additional entries:
Like GoldieBlox on Facebook, then leave another comment here and let me know that you liked them.
Retweet this message, then leave another comment here and let me know that you tweeted: Win the Goldie Blox Builder's Survival Kit and more http://bit.ly/1CwHfs1 #GirlsNeedGoldie
Pin the image below, then leave another comment here and let me know that you pinned.
The giveaway will end at 10 P.M. MST on April 15, 2015. Winner will be chosen at random and have 3 days to respond. Good luck!
This post was sponsored by The Motherhood and Goldie Blox, but all opinions are my own. We are proud owners of Goldie Blox and we are excited to share them with you! Thank you for supporting Some the Wiser and the sponsors that make it possible.